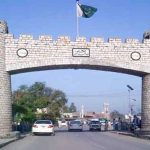 ISLAMABAD: The National Accountability Bureau (NAB) on Wednesday decided not to apprehend any contestant before the upcoming general elections 2018 scheduled on July 25.
As per details garnered, the NAB's executive board meeting was held under the chair of its Chairman Justice retired Javed Iqbal here in Islamabad today.
In the light of above decision, graft proceedings against former foreign minister Khawaja Asif, Rana Afzal and Rana Mashhood Ahmad Khan have been suspended till General Elections 2018.
The accountability board made it overtly clear the decision has nothing to do with elections or politics.
"Indiscriminate efforts are underway for corruption-free Pakistan. NAB does not believe in revenge proceedings against anyone", cleared NAB chief Justice (retd) Javed Iqbal.
The accountability body also approved probe Billion Tree Project over alleged financial embezzlement, a project launched by former Khyber Pakhtunkhwa' (KPK) govt. The landmark project has allegedly inflicted Rs19 bln loss to the provincial exchequer.
It is worth here to mention that Pakistan Muslim League Nawaz (PML-N) has termed arrest of engineer Qamarul Islam a revengeful act. Qamarul Islam is contesting election against Chaudhry Nisar.