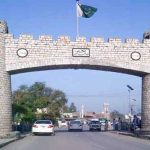 ISLAMABAD: A meeting of National Accountability Bureau (NAB) Executive Board on Tuesday decided to look into corruption complaints against Special Assistant to Prime Minister on Health Dr. Zafar Mirza.
The meeting of the Executive Board was held under the chair of Chairman NAB Justice (retd) Javed Iqbal.
According to statement issued by NAB, the board has also approved corruption inquiry against former federal health minister Amir Kiani, several officials of Civil Aviation Authority (CAA) and officers of CDA.