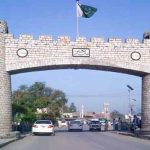 ISLAMABAD: The National Accountability Burea (NAB) on Monday investigated Pakistan Tehreek-e-Insaf (PTI) Chairman Imran Khan's close friend Zulfi Bukhari in connection with offshore companies case.
During the hearing, the court handed over a questionnaire to Zulfi regarding income source of his as many as six offshore companies.
Earlier, Islamabad High Court (IHC) had ordered Zulfi Bukhari to face investigation and cooperate with NAB.
Zulfi Bukhari's lawyer had said that imposing travel ban on his client is contrary to human rights. He said that Zulfi was first stopped from travelling to Saudi Arabia for Umrah on June 11, however, he was later given permission for six days.
My client's name was unlawfully put on ECL, he added.
The lawyer said that NAB cannot bar anyone from traveling abroad on an undergoing inquiry and requested the court to withdraw this decision.