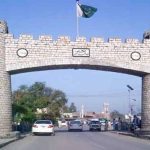 PESHAWAR: National Accountability Bureau (NAB) has on Monday initiated investigations into the alleged financial and administrational embezzlement in Peshawar Bus Rapid Transit (BRT) project.
A two-member team of the accountability body conducted raids at main offices of Peshawar Development Authority (PDA) and BRT, according to reports.
The reports added that the team confiscated all record pertaining to the mega-project.
The anti-graft body has initiated the proceedings at behest of Peshawar High Court (PHC).