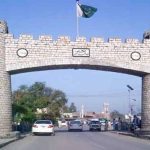 ISLAMABAD: The National Accountability Bureau (NAB) on Thursday gave approval for the repatriation of former prime minister Nawaz Sharif's sons Hussain Nawaz and Hasan Nawaz through Interpol.
This was confirmed by the NAB chief Justice (retd) Javed Iqbal while he was talking to media here.
Javed Iqbal dismissed all the speculations regarding NAB saying that the bureau does not have any political motives and is not out to target any political party.
He added that politicians could run election campaign but they should appear before NAB when summoned.
Meanwhile, caretaker Minister for Information and Law, Barrister Ali Zafar has said that NAB was working according to its own mandate and system adding that the interim government does not wish to become part of any 'blame game'.
Talking to media outside Election Commission of Pakistan (ECP), he asserted that the government cannot interfere in the legal actions that NAB takes.
He added that institutions should undertake all actions within the framework of the law.
Zafar also said that the upcoming general elections would be conducted as per schedule.