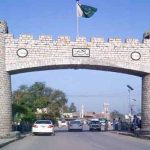 LAHORE: The National Accountability Bureau (NAB) on Friday raided the house of Pakistan Muslim League-Nawaz's (PML-N) president Shehbaz Sharif in Lahore.
According to PML-N spokesperson Marriyum Aurangzeb, NAB Shehbaz SHarif's home without any warrant.
She said that 7-8 member NAB team conducted the raid without any warning at the residence.
"Under which law was this raid conducted without any prior notice."
She confirmed that both Shehbaz and Hamza Sharif are present at the residence. "Are Hamza Shehbaz and Shebaz Sharif terrorists?" Aurangzeb asked.
The PML-N spokesperson stressed that NAB was unable to prove any sort of corruption.