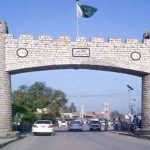 KARACHI: An accountability court has accepted the reference against Sindh Speaker Assembly Agha Siraj Durrani in assets beyond income case.
Announcing the reserved verdict, the court accepted the NAB reference against the Sindh Assembly speaker for hearing.
It is pertinent to mention here that the decision on the case had been reserved on the previous hearing. The hearing on the case was adjourned after Durrani entered the court premises earlier in the day.
Earlier, the anti-graft watchdog body had recently filed reference pertaining to assets beyond means of income against Agha Siraj Durrani.
The NAB named 20 persons including Agha Siraj as accused in the reference filed in an accountability court in Karachi after an inquiry, which continued for three months and 10 days.
On May 15, the National Accountability Bureau's (NAB) executive board had approved 12 new inquiries and gave the go-ahead to filing of a reference against Sindh Assembly Speaker Agha Siraj Durrani in an assets beyond means case.
The executive board meeting was held under the chair by NAB Chairman Justice (r) Javed Iqbal. The anti-graft watchdog also approved filing of references against PPP senator Rubina Khalid and Mazharul Islam, according to a statement.
It approved 12 inquiries against Akram Durrani, Sher Azam, Ghulam Nizamani and others. The bureau approved filing of a reference against the erstwhile Fata's education director Afzal Manan over alleged illegal appointment of teachers.
The NAB chairman also approved a reference against the Sindh Assembly speaker. The corruption watchdog body said that Agha Durrani allegedly misused his powers and accumulated assets, causing a loss of more than Rs1 billion to the national exchequer.
The NAB chairman directed the bureau's officers to take corruption cases to their logical conclusion on a priority basis as per the laws.
Earlier, the NAB Karachi had arrested Speaker Sindh Assembly Agha Siraj Durrani from a hotel in Islamabad in February this year.