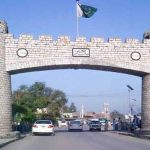 ISLAMABAD: The National Accountability Bureau (NAB) has requested the Ministry of Interior to place the names of Sharif family members on the Exit Control List.
According to media reports, the NAB has requested the ministry of interior to add the names of former PM Nawaz Sharif, his children Maryam, Hasan, Hussain and son-in-law captain (retired) Safdar in the Exit Control List.
The accountability body in a letter to ministry of interior said the trial against the Sharif family in avenfield reference has entered in final phase.
The NAB has asked the ministry to forward its request to cabinet division.