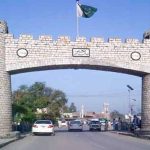 PESHAWAR: The Khyber Pakhtunkhwa National Accountability Bureau (NAB) has summoned Chief Minister Pervez Khattak and Chief Secretary Azam Khan in the mega scandal of leasing out Khyber Pakhtunkhwa Forest Department's 275 acres of protected land in Malam Jabba in violation of rules.
According to reports, the anti-corruption body has summoned Chief Minister Pervez Khattak and Chief Secretary Azam Khan in leasing out Forest Department's land for 33 years.
Earlier, chairman NAB had ordered an inquiry into the mega scandal and directed the KP NAB director general (DG) to immediately secure the relevant record and launch an inquiry in this regard. Various irregularities and illegal acts were detected in the Malam Jabba lease agreement.
Chairman NAB had taken notice of leasing out of 275-acre protected land of Forest Department to a private company Samson Group of Companies Lahore at tourist resort Malam Jabba in Swat. He has directed KP NAB DG to immediately secure all relevant documents including the lease agreement, and launch an inquiry in this regard.
Malam Jabba forests were the property of the Swat ruler; however, after dissolution of One-Unit status of Pakistan in 1970, the status of Swat and Chitral as the princely states came to an end. Then all forests in Swat were handed over to the Forest Department. On Dec 15, 1972, under a letter No 10/16-11-SOTA/72-1521, the Forest lands measuring 270 acres were declared protected. Again on Dec 20-22, 1975, in a letter No 168-V (FAD) SAOFT/71 (i), this land was declared a protected area of the department.
According to the Forest Department, the Tourism Department could not sign any agreement for leasing the land out or grant access to it. However, during the Pakistan Tehreek-e-Insaf led provincial government, 275 acres of the Forest Department have been leased out illegally. Now the provincial government wanted to change the original agreement to avoid accountability.