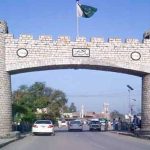 ISLAMABAD: National Accountability Bureau (NAB) Rawalpindi Chapter on Thursday summoned former federal minister and Pakistan Muslim League-Nawaz (PML-N) leader Khawaja Asif in case pertaining to the assets beyond income on December 18.
According to a notice issued on Thursday, Khawaja Asif has been asked to bring along his and family members assets and account details.
On the other hand, anti-graft agency Lahore Chapter has also summoned the wife and son Khawaja Muhammad Asad of the PML-N leader in personal capacity in Cannt View Housing Society case.
Khawaja Asif's wife and son have been directed to bring along the record of the housing scheme built in Sialkot. They are facing allegations of land grabbing and illegal allotment of plots.
Former Sialkot mayor Tauheed Akhtar Chaudhry has also been summoned tomorrow at 11am. the accused is facing allegations of selling 400 kanals of land.