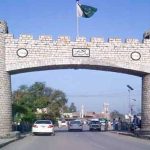 LAHORE: A heavy contingent of police and National Accountability Bureau (NAB) officials have gathered outside PML-N President Shehbaz Sharif's residence in Lahore after he missed another hearing with the anti-graft watchdog in relation to cases involving money laundering and possession of assets beyond known income sources.
PML-N workers also gathered outside Shehbaz's home, protesting loudly. Police officials in anti-riot gear stopping people and media personnel from approaching the residence and barricades set up along the perimeter.
Earlier today, Shehbaz was supposed to appear before NAB but had excused himself from appearing a third time, citing health concerns.
In a statement submitted to the bureau, he said: "It has been widely reported in the media that some NAB officials have tested positive for Covid-19.
"Please appreciate [that] I am a cancer survivor and 69 years old. I have been advised limited exposure on account of the peculiar background of low immunity," he said.
He added that he was available to answer any queries by the investigation team via Skype.
PML-N leader Marriyum Aurangzeb lambasted the government and the anti-corruption watchdog. She said: "Nobody criticises Imran Khan, no one arrests Buzdar. This circus is being done to distract [the people from] corruption and theft, to fool the Pakistani people. It does not make a difference to the PML-N.