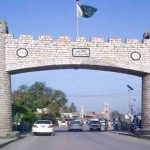 LAHORE (Khyber News) – The National Accountability Bureau (NAB) has decided to seek help from Rangers and police on the occasion of Pakistan Muslim League-Nawaz (PML-N) vice-president Maryam Nawaz s appearance at NAB's Lahore office on March 26, Khyber News reported.
According to a statement issued by the NAB s Lahore office, the accountability watchdog has reports of a possible attack from workers of some political parties on its Lahore office building on the day the PML-N leader is expected to appear.
The NAB s Lahore office statement further said that it has submitting a request to the concerned authorities to declare its Lahore office  Red Zone .
In the statement the NAB has made it clear that it will always play its role in eradicating corruption from the country and recovering billions of rupees looted by the corrupt elements in accordance with the constitution and the law, regardless of any threats or pressure.