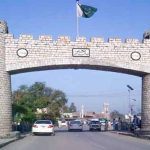 LAHORE: The National Accountability Bureau (NAB) Chairman Justice (R) Javed Iqbal Friday said that the NAB would continue indiscriminatory policy for elimination of corruption from the country.
Addressing a ceremony here, he said that the NAB was a state institution, which did not believe in vindictive action. He said that the NAB was using its powers which granted by the legislative.
The NAB chairman said that the bureau would ensure that no extra-judicial action was taken. "The NAB will not allow corruption to flourish. We've made the decision," he said.