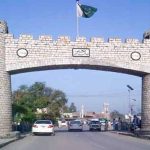 ISLAMABAD: The NAB's team has reached Zardari House for arrest of co-chairman PPP Asif Ali Zardari as police have sealed the roads leading to Zardari House.
According to reports, the NAB team is negotiating with the lawyers of the Zardari as they have demanded written order of the High Court for arrest of the former president. The lawyers say that the former president could not be arrested without written order of the court. Meanwhile, according to some reports, the NAB has decided not to arrest Faryal Talpur. The NAB wanted to arrest only Asif Ali Zardari.
Meanwhile, police commandos and Islamabad police have been deployed outside Zardari house.