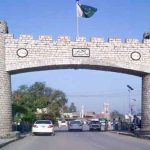 ISLAMABAD: The National Task Force on Combating Financing of Terrorism (CFT) Friday reviewed the strategy for implementation of the Financial Action Task Force (FATF) action plan.
According to reports, a meeting of the task force was held at NACTA office, which was presided over by NACTA Coordinator Dr Sulaman Khan. The meeting was attended by all 27 members of the task force from federal and provincial governments, and other organisations, including FIA, FBR, ANF, SBP, FMU, SECP, ministry of finance, ministry of interior and provincial home departments and CTDS.
The issues concerning implementation of the action plan were also thoroughly discussed and necessary decisions or recommendations made. The roadmap for the National Risk Assessment was also discussed in detail during the meeting.
Dr Sulaman apprised the participants that NACTA, on the directions of the interior minister, had set up the National Task Force on CFT, which has an elaborate mandate in coordinating the combating terrorist financing activities.