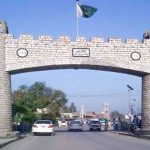 ISLAMABAD: The National Database and Registration Authority (NADRA) on Tuesday rejected allegations of sharing any sensitive information or data with anyone for the upcoming General Elections 2018.
Addressing a news conference all the four Director Generals of NADRA said they were not associated with any political party. They further stressed that not even a single citizen's data was shared through any platform. They said that the data has nothing to do with the electoral rolls nor does it contain any personal information.
They said the information shared only contained statistical number about gender, minorities and age-groups of CNIC holders.
They said that every eighteen year old CNIC holder is a voter.
DG NADRA Zulfiqar Ali, an internal email was shown on television by a private channel. "The email was not linked to data leakage," he said. He further said the press conference was not in response to a political statement by any party. "Ever since NADRA was established, data has not bee leaked," Ali said.
He further said that the authority is audited every year and has been praised by the Supreme Court. Ali said that false accusations have been levelled near the election time in the past and it was being done now.
Earlier NADRA expressed concerns over release of details regarding electoral lists. The body said that the authority shared some CNIC related statistics with some journalists under the right to information law.
Earlier, in a letter to NADRA Chairman Usman Yousaf Mobin, the Election Commission of Pakistan (ECP) had alleged that NADRA officials had shared details of voters with "unrelated persons".
In the accusation levelled against NADRA, the electoral body had said NADRA violated its agreement regarding the confidentiality of data. NADRA was not permitted to share data with anyone as per the agreement, ECP had asserted.
ECP had demanded that the NADRA chairman conduct an inquiry against those involved in the alleged data leak.
A NADRA spokesperson had however termed the allegations baseless and malicious. Moreover, it clarified that it had not provided any kind of data to any political party.
General elections are set to be held in the country on July 25.