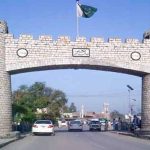 ISLAMABAD: The implementation report on the National Action Plan against terrorism will be presented in the Supreme Court next week.
Spokesperson of the Ministry of Interior in a statement in Islamabad today said that NAP is a national agenda and not the responsibility of a single department or ministry.
The spokesperson said as a result of the NAP terrorist activities in the country have been decreased to a great deal and it has also been acknowledged by the international organizations.
He said the operation Zarb-e-Azb has broken the backbone of the terrorists while the crime rate has also been reduced significantly.
The spokesperson said all the federal and provincial departments are closely working on the NAP and the Apex Committees are fully monitoring its implementation.
The spokesperson pointed out that so far 54376 combing operations have been conducted leading to 60,420 arrests. He said 3019 intelligence based operations have also been carried out.
The spokesperson said that 97.9 million SIMs have been verified through biometric process while 5.1 million have been blocked.
He said as a result of operation in Karachi there has been 44 percent reduction in target killings, 37 percent in murders, 46 percent in terrorism and 23 percent in thefts. About 56,000 criminals including 688 terrorists have been arrested.