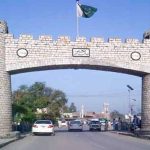 MARDAN: Jamaat Islami (JI) chief Sirajul Haq said that all stakeholders need to be united over the issues of security, adding that there were many expectations from the National Action Plan (NAP) and that the NAP needs to be implemented in its true spirit.
JI ameer paid visit to the Mardan Medical Complex and enquired about the health of the blast victims undergoing treatment there. Siraj condemned the attack on the Mardan district courts and stated that the issue of the public's safety was more important than politics and that everyone needs to be united over the security issues.
Siraj was also accompanied by local JI leaders. While addressing the media, Sirajul Haq said that the terrorists had yet again targeted Khyber Pakhtunkhwa (KP).