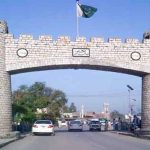 KARACHI: Father of Naqeebullah Mehsood on Wednesday threatened to close down entire country if Rao Anwar was not presented before the Anti-Terrorism Court in handcuffs.
The warning came as the suspended police officer failed to appear before the ATC in connection with Naqeebullah Mehsood's extra judicial killing.
Jail authorities told the court that the former Malir SSP had fallen sick.
Anwar's medical certificate, submitted to the court, stated that Anwar can't be presented due to his illness, the exact nature of which was not mentioned.The court ordered the police to produce Rao Anwar on May 14 before it adjourned the hearing.
Counsel for Naqeebullah's father told media the prime suspect was brought to the court without handcuffs at the last hearing.
He said justice could be dispensed if Rao Anwar keeps getting protocol.
While expressing the hope that they would get justice from the courts, the family members of Naqeebullah Mehsood said Rao Anwar was not sick rather he was a sly man.
Cases have been filed against 24 accused in the Naqeeb Mehsud murder case. Eleven of these accused men have been arrested, but the remaining 13 are still absconding.
Mehsud was picked up by plain-clothes officials from the Gul Sher Agha Hotel in Sohrab Goth on January 3. Police claimed killing four terrorists during a shoot-out in Shah Latif Town on January 13.
After the suspects' pictures were released, Mehsud's family found out that he was among the men killed by a police team led by Anwar, who maintains that the man was a terrorist.
A case of the incident was filed on January 19 and Anwar was suspended the next day. The Supreme Court ordered him to appear on January 27, but he remained on the run for at least two months before he was arrested outside the apex court.