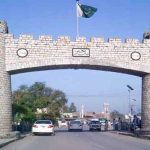 ISLAMABAD: The father of Naqeebullah Mehsud, who was killed in a 'staged' encounter in Karachi, has ruled out any compromise with former SSP Malir Rao Anwar in the name of blood money.
Rao Anwar was suspended from police services after being accused of killing the 27-year-old resident from Waziristan in a fake encounter in a suburb of Karachi on January 13 this year.
"Naqeebullah Mehsud was not only my son, he was the son of the entire nation," Muhammad Khan told media persons in Islamabad.
"Our opponents are running a propaganda that we are going to strike a deal with Rao Anwar," he said. "I cannot pardon the killer of my son if I am offered Rs200 billion," he said. "Rao Anwar should be brought to the court in chains," he demanded.
Meanwhile, leaders of a national tribal jirga warned that they would stage a nationwide protests if Rao Anawar was not arrested.
All the promises made with us during the Islamabad's sit-in should be honored, they said, adding all missing persons should be released without any delay.
The former SSP, who is facing charges of killing hundreds of people in fake encounters, remains at large.
Chief Justice Saqib Nisar also took notice of Naqeebullah's murder and directed the Sindh police to arrest Rao.
An inquiry committee constituted by the Sindh government to investigate Naqeebullah's killing also ruled that the victim had no terror links and that he was killed in a staged encounter by Rao Anwar and his team of cops.
Hundreds of people from Waziristan and Khyber Pakhtunkhwa staged a 10-day protest sit-in in the federal capital last month to demand an end to extra-judicial killings and enforced disappearances.