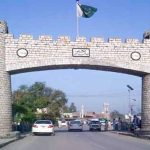 ISLAMABAD: National Security Adviser (NSA) Nasser Khan Janjua has urged the need for taking concrete steps to combat the challenge of cyber security.
He was addressing a conference on 'Cyber-Secure Pakistan: Vision-2025' organized by Pakistan Information Security Association in Islamabad on Thursday.
Nasser Khan Janjua said the country's Information Security Agencies need to scrutinize cyber space to protect the communications, financial and conventional set-ups from cyber attack.
Adviser said people and the government need to realize the gravity of cyber-security threats.
Nasser Khan Janjua called upon the experts to help and assist the government departments and people.
Speaking on the occasion, Chief Executive of 'Cyber Security Malaysia' Dr. Aminuddin Abdul Wahab said Malaysia has taken timely measures to combat the cyber security challenges including eight cyber laws and partnership with the local universities.
President of PISA Ammar Jaffery said the future of Pakistan is linked with timely development and ensuring cyber security in the country.
Representatives of information security agencies, National Police Foundation and a large number of students attended the conference.