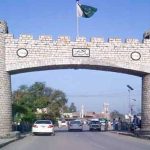 ISLAMABAD: The Pakistani nation is celebrating Defence and Martyrs Day on Friday (today) to pay homage to the martyrs and ghazis who became a rock solid wall to defend the motherland against the aggression of enemy.
It was on this day in 1965 that Indian forces crossed international border in the darkness of night to attack Pakistan but the nation and the armed forces foiled the nefarious designs of the enemy.
It is pertinent to mention here that Pakistani government will commemorate Friday, September 6, 2019 as both Defence Day and Kashmir Solidarity Day.
Inter Services Public Relations (ISPR) has aired song " Aaen Chlen Shaheed Kay Ghar" in this regard.
Special prayers were offered after Fajr prayers in mosques for progress and prosperity of the country. Fateha and Quran Khawani were also held for the martyrs.
Main ceremony of the day is being held at General Headquarters where Army Chief General Qamar Javed Bajwa would address the audience.
Special ceremonies would also be held at Naval Headquarters and Naval airbases to pay homage to martyrs. Show of defence equipment and air shows would also be part of celebrations.