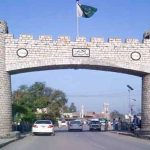 ISLAMABAD: The nation is celebrating Eidul Azha today with great religious zeal and fervor to commemorate the supreme sacrifice of Prophet Hazrat Ibrahim (AS).
The day dawned with special prayers in mosques for well-being of the Ummah and progress prosperity and security of the country.
Eid congregations held at mosques, Eidgahs and open places in all cities, towns and villages across the country. Ulema and khateebs from different schools of thought delivered special sermons and lectures to highlight the significance of the day.
In the federal capital, the main Eid congregation held at Faisal Mosque where Federal Ministers, politicians and parliamentarians present in Islamabad, Muslim diplomats and notables joined thousands of faithful in prayers.
After offering Eid prayers, the faithfuls are slaughtering their sacrificial animals in pursuance of Sunnat-e Ibrahimi. The meat of sacrificed animals will be distributed among relatives and the poor.
In Lahore, biggest Eid congregation held at Badshahi Mosque while in Rawalpindi, main Eid congregation held at Liaqat Bagh, while in Karachi' large congregations held at Gulshan-e-Jinnah' Nishtar Park' National Stadium and Eidgah Nazimabad.
To celebrate Eid-ul-Azha, Muslims sacrifice animals including cow, goat, sheep and camel according to their purchasing power on any of the three days of Eid. People this year have suffered a lot due to the mounting prices of the sacrificial animals.
The administration in all big cities has further beefed up the security for Eid. A contingency plan has been issued to ensure and maintain law and order, safety and security of the general public. Police personnel would perform their duties outside the mosques and public places.