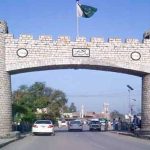 ISLAMABAD: The nation will celebrate Independence Day tomorrow, with traditional fervor and enthusiasm.
Meanwhile, preparations across the country have reached climax to celebrate the day in a befitting manner.
All major public and private buildings, roads and avenues have been decorated with illuminations, national flags, portraits of national leaders, banners and buntings to give a festive look.
It will be a public holiday tomorrow.
The day will dawn with thirty-one gun salute in the federal and twenty-one gun salute at the provincial capitals.
The main event of the day will be a flag hoisting ceremony at Convention Center in Islamabad where President Mamnoon Hussain will be the chief guest.
At 9:59 in the morning, siren will be sounded and the traffic come to standstill for one minute. Then President will hoist the national flag followed by National Anthem.
The President will also address the nation on the occasion.
Caretaker Prime Minister Justice retried Nasir-ul-Mulk, Federal Ministers, Speaker and Deputy Speaker of the National Assembly, parliamentarians, services chiefs, envoys of various countries, and people from all walks of life will grace the occasion.