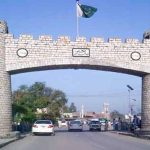 ISLAMABAD: The nation is celebrating Pakistan Day today across the country with traditional zeal and fervor.
Pakistan Day marks the passing of the Lahore Resolution on March 23, 1940, when Muslims of the Subcontinent demanded the establishment of a separate homeland to safeguard their rights.
A 31-gun salute in the federal capital and 21-gun salute in the provincial capitals welcomed the day. Special prayers were offered in mosques after Fajr prayers for progress, prosperity and sovereignty of the country.

A grand military parade at Parade Ground near Shakarparian in Islamabad was the highlight of the day. The parade commenced with the recitation of Holy Quran after which the national anthem was played. President Dr Arif Alvi inspected the parade from a jeep.
The guest of honour at this year's parade was Malaysian Prime Minister Mahathir Mohammad. Prime Minister Imran Khan, Defence Minister Pervez Khattak, Chief of Army Staff General Qamar Jawed Bajwa, Chief of Air Staff Air Chief Marshal Mujahid Anwar Khan, and Chief of Naval Staff Admiral Zafar Mahmood Abbasi attended the parade.
Besides, a large number of senior government and military officers and foreign dignitaries were also in attendance.
Air Marshal Mujahid Anwar Khan led a fly-past as a salute to the chief guest. After which a formation of JF-17 Thunder fighter jets of Pakistan Air Force performed aerobatic skills, followed by formations of F-7PG and Mirage fighter aircraft.
Contingents of Pakistan Army, Frontier Corps, Pakistan Rangers, Mujahid Battalion, Tri Services Lady Officers, Special Services Group (SSG) and others held a march-past. Troops from Azerbaijan, China, Saudi Arabia, Turkey, Bahrain and Sri Lanka also took part in the parade.
After the troops, contingents of armoured and mechanised infantry held a march-past.
The columns of Al-Khalid Main Battle Tank (MBT), Al Zarrar tanks, radar systems, Unmanned Aerial Vehicle (UAV), cruise missiles and other modern weapons equipped with latest military technology featured in the parade. A Pakistan Rangers band riding camels also held a march-past, playing national songs on bagpipes.
Floats from Sindh, Punjab, Balochistan, Khyber Pakhtunkhwa, Gilgit Baltistan and Azad Kashmir depicted culture of their areas.
Army Aviation's combat and attack helicopters, including Mi-35, Mi-14, and AgustaWestland 139 helicopters, participated in the flypast. SSG commandos of Pakistan Army's Shehbaz Team and paratroopers from Sri Lanka, Saudi Arabia and Azerbaijan made free-fall jump from helicopters and landed at the parade venue.
The aerobatic maneuvers of JF-17 Thunder fighter jets and aircraft from friendly countries, including Turkey, caught the imagination of the audience.
Addressing the military parade at Parade Ground near Shakarparian, the president renewed the country's commitment to regional peace and stability. He avowed that Pakistan desired peace and stability and not war.
"We don't believe in fighting but our desire for peace should not be misconstrued as our weakness," he said.
The president said Pakistan overcame the challenge of terrorism with unprecedented scarifies. "Pakistan is a rising economic power," he asserted.
"We respect the sovereignty of all countries. The region needs peace and not war," he said, adding, "Our actual war is against poverty."
The president expressed gratitude to Prime Minister Mahathir, Azerbaijan's defence minister, the chief of Bahrain's armed forces and other foreign dignitaries for attending the parade on Pakistan Day.
Stringent security arrangements have been made to deter any untoward incident with the routes leading to the parade venue heavily guarded.
Later in the day, an investiture ceremony will be held at Aiwan-e-Sadar where the president will confer civil awards on 171 individuals demonstrating their skills in different fields of science and arts.