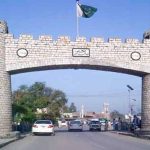 RAWALPINDI: Chief of the Army Staff (COAS) General Qamar Javed Bajwa has said on Saturday in a statement issued in connection with third anniversary of that the nation owes improving peace in Pakistan to the sacrifices rendered in war on terror.
"Remembering martyrs of APS Peshawar. The great sacrifice of our innocent beloved children & their brave families remains unforgettable. It symbolises our undeterred resolve in love of our motherland. Your sacrifice has not gone in vain, we owe this improving peace to you," the ISPR quoted general Bajwa.
On December 16, 2014, over 140 lives were lost in an attack on a school in Peshawar.
Young school-going children were massacred by terrorists who stormed the educational facility as a reaction to Operation Zarb-e-Azb, a large-scale security operation launched in mid 2014 in tribal areas of Pakistan to eliminate terror hideouts.
Pakistan Army conducted an operation killing the attackers and secured the premises with both the civil and military leadership coming on same page in the hours that followed in bid to rid Pakistan of banned outfits and operatives of terrorist organisations.
National Action Plan (NAP) was devised as a strategy to eliminate extremists in parts of Pakistan.