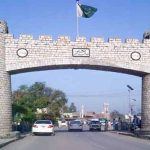 ISLAMABAD: Prime Minister Imran Khan said on Sunday the martyrs of the Army Public School (APS) tragedy united the entire nation against an enemy.
In a message to mark the 4th anniversary of the horrific terrorist attack on the school in 2014, he paid a rich tribute to the lives lost in the tragedy and expressed sympathies with the parents of the martyred children.
The premier said the entire nation shared the grief of the bereaved families, adding that the APS martyrs will always be remembered. He reaffirmed the nation's commitment to national, regional and world peace.
He said the Pakistan Army undertook a decisive action against terrorists with the support of the nation and added the price the country paid in the war against terrorism couldn't be estimated.
The prime minister said education is the best tool to defeat extremism and terrorism for good. He reiterated the government's commitment to turn Pakistan into a society which will not tolerate extremism and violence in any form.
On Dec 16, 2014 six terrorists stormed the school and martyred around 150 students and teachers.
After this tragic incident, the government chalked out the National Action Plan (NAP) to eliminate terrorism from the country. Besides, the armed forces launched military operations in the country's tribal areas to eradicate the scourge of terrorism.