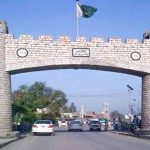 DERA GHAZI KHAN: Pakistan Tehreek-e-Insaf (PTI) Chairman, Imran Khan, Sunday lashed out at Prime Minister Nawaz Sharif, claiming that the nation would soon "get rid of Sharif mafia" in the Panama Papers case.
"There's a judge far more cognizant of all the injustice. The Almighty Allah, who has taken a suo motu action against Nawaz Sharif now in the Panama case," Khan said, while addressing his supporters in Dera Ghazi Khan.
Despite the heavy rain and cold weather, Khan's enthusiastic workers gathered in great numbers and braved blows of cold wind to listen to their beloved leader.
"People of DG Khan, your Kaptaan is well aware of your problems. And he is adamant to solve them. I will try my best to make a state of the art charity hospital here as well," he said.
As usual, Khan did not forget to criticise PM Nawaz Sharif.
"The people want a Naya Pakistan. So who are you Nawaz Sharif to deprive them of it? To make our dreams come true, we will make a Naya Pakistan InshaAllah."
"Even the people of Lahore are fed up of the dictatorial Takht-e-Lahore," he claimed, hoping that Panama Leaks case will be a tipping point for Pakistanis to get rid of the 'Sharif Mafia'. "Pakistan was founded in the name of justice and equality. Our forefathers envisioned an exemplary Islamic welfare state. Alas we're far from it."
As part of its ongoing mass contact campaign on the Panamagate issue, PTI has kicked off series of rallies in Punjab.
After DG Khan, Imran Khan will address a public gathering in Kasur on Jan 22 and another in Sahiwal on 29. On Jan 8, he spoke at the party's public meeting in Bahawalpur.