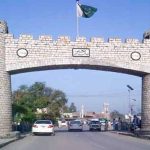 ISLAMABAD: Pakistan's flag will fly at half-staff today in solidarity with the victims of Friday's terrorist attacks on two mosques in New Zealand.
The government took this decision to express solidarity with the bereaved families that lost their loved ones in the gruesome terror incident in Christchurch, according to a notification issued by the Ministry of Interior.
It said the government and people of Pakistan stand united and extend solidarity to the grieved families.
Australian right-wing extremist Brenton Tarrant opened fire at dozens of Muslims at two Christchurch mosques during the Friday prayers. Those martyred at Al Noor and Linwood mosques belonged to Pakistan, Afghanistan, Saudi Arabia, Egypt, Jordan, Bangladesh, Turkey, Indonesia and Malaysia.
The total death toll in the horrific mass slaughter in New Zealand's modern history surged to 50 on Sunday and nine of the deceased were from Pakistan.
Among 36 people who are being treated at hospitals is a 67-year-old Pakistani, Muhammad Amin Nasir, who remains in an induced coma though his condition has stabilised.
Earlier on Sunday, the Foreign Office had confirmed the death of three more Pakistanis in Christchurch mosque shootings, increasing the number of Pakistanis who embraced martyrdom in the incident to nine.
According to spokesman Dr Muhammad Faisal, Zeeshan Raza, his father Ghulam Hussain and mother Karam Bibi have been confirmed to have died in Friday's terrorist attacks on two mosques in New Zealand.
Other Pakistanis who were martyred in the horrific terror attack include Sohail Shahid (Lahore), Syed Jahandad Ali (Lahore), Syed Areeb Ahmed (Karachi), Mahboob Haroon (Islamabad), Naeem Rashid (Abbottabad), and Talha Naeem (Abbottabad).