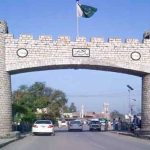 ISLAMABAD: The National Security Committee on Wednesday discussed the country's internal and external security situation, Indian troops' continuous violations of Line of Control (LoC) ceasefire agreement and situation in Indian held Kashmir.
Prime Minister Shahid Khaqan Abbasi chaired the National Security Committee meeting in Islamabad. The meeting was attended by Defence Minister Khurram Dastgir Khan, Finance Minister Miftah Ismail, Interior Minister Ahsan Iqbal, Chairman Joint Chiefs of Staff Committee General Zubair Mehmood Hayat, Chief of the Army Staff General Qamar Javed Bajwa, Chief of Naval Staff Admiral Zafar Mehmood, Chief of Air Staff Air Chief Marshal Mujahid Anwar Khan, National Security Advisor retired Lt. General Nasser Khan Janjua and senior civil and military officials.
The meeting took stock of the prevailing security environment while reviewing the internal and external security situation, Indian ceasefire violations on Line of Control (LoC) and developments in Operation Raddul Fassad.