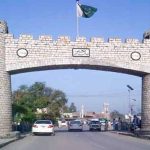 ISLAMABAD: Speaker National Assembly Ayaz Sadiq on Friday formed 33-member National Security Parliamentary Committee to review national security and implementation on National Action Plan (NAP).
The committee is comprised of 33 parliamentarians from all the political parties. PTI chief Imran Khan, QWP chief Aftab Ahmed Khan Sherpao, PPP senator Sherry Rehman, and JI chief Sirajul Haq are among the members of the parliamentary committee on national security.
Earlier, the National Assembly (NA) had passed a motion for formation of parliamentary committee on national security.
The motion was presented in the house by law minister Zahid Hamid after approval of the 28th constitutional amendment for revival of the military courts.
The opposition parties raised objections over TORs of the committee, which were accepted by the government. The committee would consist of parliamentary leaders of the all political parties in Senate and National Assembly. The committee would review the implementation of the national action plan and transfer of cases from military courts to civil courts. The finance minister suggested review of transfer of cases to civil cases.
The committee would present its report after three months in the National Assembly and Senate. The committee would also review issues concerning national security.