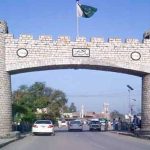 ANKARA: Chief of Naval Staff Admiral Zafar Mahmood Abbasi has been bestowed with military award of Turkish armed forces, 'the Legion of the Turkish Armed Forces'.
According to spokesperson of Pakistan Navy, the award was presented to him by head of Turkish Navy Adnan Uzbaal at a ceremony held at Turkish Naval Headquarters in Ankara.
Admiral Zafar Mahmood Abbasi, who is on an official visit to Turkey has been given the award as an acknowledgement of his efforts for strengthening cooperation between navies of the two countries.
During the visit, the Naval Chief met his Turkish counterpart, Turkish Defence Minister and Commander Turkish General staff.