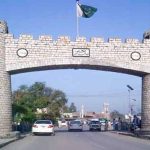 LAHORE: Former prime minister and supreme leader of Pakistan Muslim League-Nawaz (PML-N) Nawaz Sharif on Monday has asked the people to come out of their homes and vote PML-N in the general elections.
In an audio message just before the general elections in the country, Nawaz Sharif has asked supporters stand up for their rights and sanctity of vote.
Nawaz Sharif said, "Push the wall that has been choking Pakistan and its citizens for the past many decades. It is already falling and needs a final push".
Nawaz Sharif has also asked his supporters to defy attempts by forces who wanted to dismantle democratic values and principles.
He asked the PML-N stalwarts to come out of your homes and vote for Sher (the party's electoral symbol).