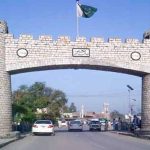 ISLAMABAD: Former prime minister Nawaz Sharif on Monday asked his supporters to turn his struggle for the "sanctity of the vote" into a success on election day.
In an audio message ahead of the elections, the PML-N supremo urged his supporters to once again vote his party to power, saying he and daughter Maryam "went to jail just for the sake of providing respect to the vote".
"Push the wall that has been choking Pakistan and its citizens for the past many decades. It is already falling and needs a final push," he added.
Nawaz Sharif, while lauding party supporters for their contributions, asked them to defy attempts by forces who wanted to dismantle democratic values and principles.
"On July 25, after offering morning prayers, come out of your homes with full zeal and… give your vote to the PML-N.
"Come out of your homes and vote for Sher. Give your verdict in favour of democracy and development and change the fate of this country," he said.