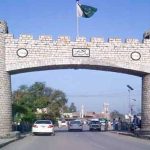 ISLAMABAD: Former prime minister Nawaz Sharif, his daughter Maryam and son-in-law Captain (retd) Safdar's parole will end at 4pm today (Monday) and they will be taken back to Adiala Jail in Rawalpindi.
The Sharifs were granted parole on September 12 to attend the funeral of Begum Kulsoom Nawaz, the former premier's wife. Begum Kulsoom passed away in London on September 11 after a prolonged battle with cancer.
Her funeral prayers were held at London's Regent Park mosque and her body was brought back for burial to Pakistan on September 14.
The Sharifs were given an extension in their original parole time and were awarded five days.
However, their home in Jati Umra was made a sub-jail and their movement was restricted.
Nawaz was awarded 10 years while Maryam and Safdar were awarded seven and one year respectively by an accountability court in the Avenfield reference case.