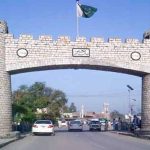 ISLAMABAD: Former prime minister Nawaz Sharif along with his daughter Maryam Nawaz and son-in-law Capt (retd) Safdar are appearing before the accountability court in a reference pertaining to their Avenfield properties in London.
Accountability Court-I Judge Mohammad Bashir, who has been conducting corruption proceedings against the Sharif family since September last year, resumed hearing the case today (Monday).
During the court proceedings, harsh words were exchanged between Nawaz's legal counsel Khawaja Haris and National Accountability Bureau prosecutor.
Deputy prosecutor-general remarked that Nawaz Sharif has accepted his employment. "Does the defence council refuses to accept documents pertaining to the employment," he asked.
The last hearing of the reference was adjourned till today due to the health issues of Judge Mohammad Bashir.
During today's hearing, Nawaz's counsel Khawaja Haris is continuing his cross-examination of Wajid Zia, the Federal Investigation Agency additional director who headed the Panama case joint investigation team (JIT) which probed the Sharif family's assets last year.
Today is the eighth time Zia has been cross-examined after having recorded his statement in the case over six hearings earlier.
The case of the Sharif family's London flats is based on a reference filed by the National Accountability Bureau (NAB) on the Supreme Court's directives last year.
The issue of live broadcast of court proceedings was also touched upon as Nawaz Sharif spoke to journalists outside the accountability court.
The former premier remarked that he will speak to his lawyer if a petition pertaining to trial's live transmission can be submitted to the court.
On April 4, Maryam had demanded live broadcast of the corruption proceedings under way against them at the accountability court in Islamabad.