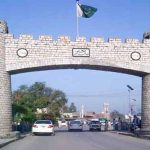 LAHORE/ISLAMABAD: Former prime minister Nawaz Sharif and his daughter Maryam Nawaz on Thursday have left for London to inquire after the health of Kulsoom Nawaz.
Nawaz Sharif, who is accompanied by his daughter, will visit his ailing wife Kulsoom Nawaz and inquire about her health, who is being meted out cancer treatment in London.
Earlier today, Maryam Nawaz in her message on twitter said that they were leaving for London adding they would return Pakistan in the next week.
She wrote, "Leaving for London. Back next week IA. Can't wait to meet & hug Ami. Request all for special dua for her health. May Allah bless you all."
Meanwhile, accountability court in Islamabad is all set to hear Avenfield Reference filed by National Accountability Bureau (NAB) against the Sharif family.
Judge Mohammad Bashir will be conducting the hearing while Maryam Nawaz's lawyer will resume his final arguments.
Nawaz Sharif and Maryam Nawaz were awarded exemption from personal appearance in the case for today.