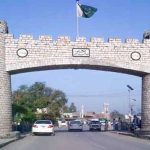 ISAMAABAD: The accountability court has on Friday resumed hearing of Avenfield reference filed by National Accountability Bureau (NAB) against the Sharif family as former prime minister Nawaz Sharif, his daughter Maryam Nawaz and son-in-law Capt. Retd Safdar appeared in the court.
On Thursday, NAB's witness Wajid Zia, who also headed the Joint Investigation Team (JIT) probing corruption allegations against the Sharif family, presented former Qatari Prince Hamad bin Jassim bin Jaber alThani's letter defending the Sharif family as evidence in court.
Interestingly, the defense counsel did not raise any objections to the admissibility of the Qatari letter as evidence.
Meanwhile, Zia continued to record his statement and included parts of the report as evidence he gathered himself and through the JIT's official research.
However, his complete statement could not be recorded, and will resume recording his statement during today's hearing conducted by accountability court's Judge Mohammad Bashir.