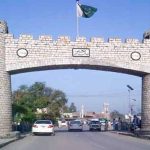 ISLAMABAD: Former premier Nawaz Sharif, his daughter Maryam Nawaz and son-in-law Captain (retd) Muhammad Safdar were shifted bach to Adiala jail as the five-day parole granted to them to attend Begum Kulsoom's funeral ended today (Monday).
The parole of the three, who have been serving sentences in Adiala jail since July in the Avenfield reference, will end at 4pm.
Nawaz, Maryam and Capt Safdar were flown to Rawalpindi via a special flight from the Lahore airport.
Several PML-N leaders were present at Jati Umra when the three were taken for the airport.
Earlier, PML-N leader Tanveer Hussain denied reports that the Sharifs have requested for another extension in their parole.
Nawaz, Maryam and Capt Safdar were released on 12-hour parole after the former premier's wife, Begum Kulsoom, passed away on Tuesday.
On Wednesday, however, the Punjab government extended their parole by four days until 12 am on Monday.
Their parole was then extended till Monday 4pm.
Prayers for the departed former first lady were held at Jati Umra on Sunday.
Begum Kulsoom was laid to rest on September 14. She passed away in London on September 11 after a year-long battle with cancer. Her funeral prayers were offered in London on Thursday following which her body was flown to Lahore.