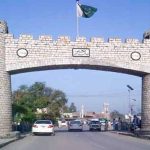 ISLAMABAD: Former prime minister Nawaz Sharif, his daughter Maryam Nawaz and son-in-law Captain (retd) Muhammad Safdar have approached the Ministry of Interior for removal of their names from the Exit Control List (ECL).
As per details, Sharif and members of his family, who were released from Adiala prison after suspension of their jail terms by the Islamabad High Court last month, wrote a letter to the interior ministry, asking it strike their names off the no-fly list.
The letter was written a week ago; however, the ministry has not given any response yet.
As an interim relief, the Islamabad High Court (IHC) on Sept 19 suspended the conviction of Nawaz Sharif, his daughter Maryam Nawaz and her spouse Captain Safdar in the Avenfield properties case.
Their names were placed on the Exit Control List (ECL) after an approval from the new cabinet of Prime Minister Imran Khan.
The cabinet had decided to put the names of Nawaz Sharif, Maryam and Safdar on the ECL and take measures to repatriate his two sons – Hussain and Hassan Nawaz – and former finance minister Ishaq Dar who have been declared fugitives by courts in NAB references.