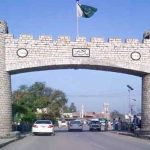 LAHORE: Former Prime Minister Nawaz Sharif has nominated his younger brother and incumbent Punjab Chief Minister Shehbaz Sharif as PML-N's candidate for prime minister position.
The decision was taken by former Prime Minister Nawaz Sharif in a party meeting which was held at his Jati Umra residence in Lahore.
During the meeting, Nawaz endorsed Shehbaz as the party's candidate for the post of prime minister in the upcoming elections after speaking highly of his brother.
Nawaz said that Shehbaz Sharif had delivered as the chief minister for Punjab and despite his differences with party leadership over several issues, had never violated discipline for which he deserved praise.
He also issued a warning to all those who claimed to be representatives of PML-N that they should not violate the discipline of the party and must remain loyal even in testing times.
The news comes in the wake of media reports that a rift existed between the two brothers. Nawaz Sharif did not nominate Shehbaz as PML-N's candidate for prime minister after he was disqualified.
Shahid Khaqan Abbasi became Nawaz Sharif's successor when he was nominated by the party to be its candidate for prime minister.