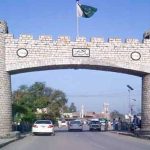 LAHORE: Former Prime Minister Nawaz Sharif on Wednesday again raised questions over his disqualification by the Supreme Court on July 28 in Panama Papers case verdict.
While addressing the jubilant crowd present at the Pakistan Muslim League-Nawaz (PML-N) Youth Wing convention in Lahore, Nawaz Sharif said that he is still failed to understand why he was ousted from the prime minister seat. Nawaz returned on Tuesday as chief of the ruling party, thanks to the election reforms passed by parliament a day earlier.
He congratulated his voters for the recent win in Lahore's NA-120 by-poll. "This victory has turned into a golden page of history," he said. "You didn't win an NA seat but also helped justice prevail."
He said the PML-N government had ended prolonged hours of power outages in the country, and help lift the industrial sector. "Every nook and corner of Pakistan has electricity now. Workers, farmers, women, students, everybody has electricity," the PML-N chief claimed.
Gas loadshedding, he added, has reduced as well as fuel prices. Nawaz further maintained that the credit for curbing terrorism in the country went to his government too.
"Despite all that, I was removed from office," he said.