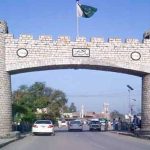 KARACHI: Pakistan Muslim League-Nawaz (PML-N) president Nawaz Sharif on Thursday arrived in Karachi on a two-day visit.
A large number of Pakistan Muslim League-Nawaz workers were present at the Jinnah International Airport to receive their leader.
During his visit to the metropolis, he is expected to meet people from different walks of life and discuss party matters ahead of general election.
Nawaz Sharif would also chair a meeting of the PMLN.
Shortly after arriving in Karachi, Railways Minister Khawaja Saad Rafique took to Twitter and criticized the Pakistan Peoples' Party leader Asif Ali Zardari for what he said piles of trash littering Shahra-e-Faisal.
"Your government has ruined the city of Quaid. Instead of taking care of it, your have left it to the mercy of professional criminals.