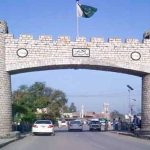 LAHORE: Deposed PM Nawaz Sharif is a bigger threat to the country than the Muttahida Qaumi Movement-London's Altaf Hussain, Pakistan Awami Tehreek (PAT) chief Tahirul Qadri said on Friday.
Addressing a press conference in Lahore, Qadri said the hooliganism of Pakistan Muslim League-Nawaz (PML-N) lawyers and supporters at an accountability court earlier in the day was a sign of things to come.
"It's clear now why Rangers were removed from the judicial complex. The security of the court should be handed over to the army and Rangers," he added.
The PAT chief said Sharif had resorted to unconstitutional methods and was attacking state institutions.
"Nawaz Sharif doesn't even consider the Supreme Court 'Supreme'. The Sharif family is bent on damaging the country's economy and maligning state institutions," he remarked.
"If they are not stopped, the country will find itself in an infinite crisis," he added.
"There are no bigger terrorists and goons in the country than the Sharif family."
Earlier on Friday, an accountability court in Islamabad adjourned the hearing of the graft cases against the Sharif family till October 19.
The decision came shortly after PML-N chief Nawaz Sharif's daughter Maryam Nawaz and son-in-law Captain (retd) Safdar appeared in court for the hearing of the graft cases.
However, chaos ensued as PML-N lawyers and supporters tried to enter the courtroom forcing the judge to adjourn the hearing.
As judge Muhammad Bashir entered the courtroom a number of lawyers forced their way into the court. The lawyers reportedly surrounded the judges' bench claiming that they were manhandled by security forces outside the court and kept from entering the courtroom.