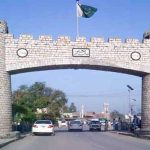 PESHAWAR: Awami National Party chief Asfandyar Wali Khan has said on Sunday that ousted prime minister has gone back on his word of merging Federally Administered Tribal Areas with Khyber Pakhtunkhwa province.
The party chief addressed a rally in Chamkani area in connection with upcoming NA-4 on October 26. Wali accused Pakistan Tehreek-e-Insaf government of utilising government's resources in electioneering for the by-polls.
He demanded off National Accountability Bureau chief to take action against all those named in the Panama case and not Nawaz Sharif only. He reiterated that Awami National Party would put up all the efforts needed for FATA-KP merger.
He asserted that the government of Tehreek-e-Insaf has not done anything for the people of Khyber Pakhtunkhwa in the last four and a half years. He alleged the government of violating the merit and having matriculation graduates recruited as medics.
ANP chief alleged Imran Khan of locking his eyes on federal authority and not caring about the development of provinces and welfare of the people.
Wali said that the government of Khyber Pakhtunkhwa has an understanding with the federal government over China-Pakistan Economic Corridor. He claimed that there are Pakistanis named in Panama Papers leak who are said to have 30 to 35 offshore companies registered in their names.