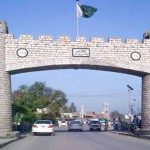 LODHRAN: Pakistan Tehrik-e-Insaf (PTI) Chairman Imran Khan on Friday accused former Prime Minister and PML-N president Nawaz Sharif of colluding with the federal ministers in corrupt practices.
While addressing PTI rally in Lodhran, Khan claimed that son of disqualified premier Nawaz Sharif resides in a house worth Rs 600crore and that ministers belonging to ruling Pakistan Muslim League-Nawaz (PML-N) are corrupt.
He asserted that foreign minister Khawaja Asif holds a resident permit of Dubai and that he withdraws salary worth Rs 16lac from a Dubai-based entity in addition to service as Pakistani minister.
PTI chief reiterated that the top court had granted time to Nawaz Sharif to file his defence in corrution probe but he did not and filed a letter of a Qatari prince instead as money trail which was demanded of him.
Khan hypothetically asserted that Sharif family would have faced a sentence if the letter was presented in a foreign court in case the trial was conducted there.
He further said that accountability courts have granted time according to the rules to Sharif family to defend their case but the ousted premier would not be able to.
Imran Khan participated in party's political rally in Lodhran on Friday violating directives of Election Commission of Pakistan (ECP) over NA-154 by-election electioneering.
The commission has ordered Khan and disqualified secretary general of PTI Jahangir Tareen to not participate in the rally.
The commission has directed all political parties to abide by the code of conduct. PTI leaders were barred by the commission to visit NA-154 constituency after schedule of the by-election was issued as according to the rules, parliamentarians cannot visit a constituency after issuance of polls schedule.
Imran Khan attended the rally today and delivered an address to party supporters, urging them to vote for disqualified Tareen's son contesting the by-elections Ali Khan Tareen.
PTI secretary general was disqualified in a corruption probe by the top court following ousting of Nawaz Sharif, former premier in a like references filed by PTI among opposition parties.