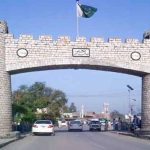 ISLAMABAD: The ousted prime minister and President Pakistan Muslim League-Nawaz (PML-N), Nawaz Sharif has expressed deep concerns over the change of chief minister Balochistan.
Talking to media outside accountability court on Tuesday, Nawaz Sharif said that the political crisis in Balochistan needed to be taken seriously.
He questioned as to how a person, who bagged 500 votes, became the chief minister adding that it was a sick joke with the people of the province.
Nawaz also said he had summoned a meeting with the party's Baloch leadership on Thursday to find out why this happened.
The former prime minister also questioned the timing of the protest by the Pakistan Awami Tehreek (PAT), which is likely to have support of major opposition parties.
Referring to PAT Chief Dr. Tahirul Qadri, Nawaz said answers to Qadri's timings lie in the reasons if one thinks about them.