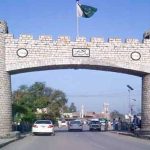 ISLAMABAD: Pakistan Muslim League Nawaz (PML-N) leader and Federal Minister for Information Marriyum Aurangzeb on Friday termed the Supreme Court's decision on duration of disqualification a 'conspiracy' against the ousted prime minister Nawaz Sharif.
Speaking to the media outside the apex court, she said once again a verdict had been handed down against the thrice-elected prime minister.
Such verdicts had been given in the past, which led to the execution of former prime minister Zulifkar Ali Bhutto and assassination of Benazir Bhutto, she said.
The PML-N leader said the disqualification verdict against Sharif was given even before conclusion of his trial claiming that corruption of not a single penny has been proven against Nawaz Sharif.
The PML-N leader said the accusation on the basis of which Nawaz Sharif was disqualified has yet to be proved.
She said even the former premier's honesty is borne out by none other than NAB's star witness Wajid Zia, the head of the Panama Joint Investigation (JIT), in the case filed against the Sharif family.
The minister said Sharif was disqualified on the basis of "an incomplete trial".