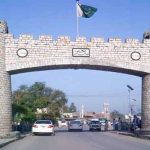 LONDON: The ousted prime minister Nawaz Sharif while expressing concerns over the current situation in Pakistan has said that the country was passing through difficult phase.
Talking to media in London on Friday, Nawaz Sharif said that Pakistan was moving smoothly towards development but now, it was becoming instable.
He said that the process of China Pakistan Economic Corridor (CPEC) had also slowed down due to unrest prevailing in the country.
Nawaz Sharif also said that his government had worked hard for the welfare of the people and added that the stock exchange, hovering around 54,000 points, had now dropped to around 37,000 points.
Nawaz Sharif is in London to visit his ailing wife Begum Kulsoom Nawaz after the accountability court granted him a short-duration exemption from the hearings of National Accountability Bureau (NAB) references against him. However, sources told that Sharif has delayed his plan to return Pakistan.
Earlier, PM Abbasi, Khawaja Asif and Shahbaz Sharif had called on former prime minister and president of Pakistan Muslim League-Nawaz (PML-N) Nawaz Sharif in London after attending OIC Summit in Istanbul.
The meeting was attended by Maryam Nawaz, Foreign Minister Khawaja Asif and Punjab Chief Minister Shahbaz Sharif.
Important decisions regarding political issues in the country were discussed in the meeting.