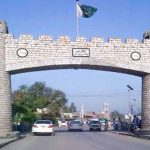 LAHORE: Former prime minister Nawaz Sharif has left his residence for Kot Lakhpat Jail in Lahore Tuesday, following the expiry of his six-week bail in the Al-Azizia Steel Mills corruption reference.
The former prime minister is accompanied by his daughter Maryam Nawaz Sharif and Hamza Shahbaz. A large number of PML-N workers and leaders were also present on this occasion.
Earlier, the jail officials reached Jati Umra to escort the former prime minister to the prison.
The Home Department Punjab earlier instructed Nawaz to reach Kot Lakhpat Jail by 5pm today, and said his arrival in the form of a rally would be against the law.
A three-member bench of the Supreme Court headed by Chief Justice Asif Saeed Khosa last week rejected a petition by Nawaz for an extension in the bail granted to him on medical grounds in the Al-Azizia reference.
The court also rejected the former premier's plea to allow him to travel abroad for treatment.
Nawaz had been granted bail on medical grounds by the apex court on March 26 for six weeks. On April 25, he had submitted a review petition in the Supreme Court seeking a permanent bail.